It seems I always do things and forget to post them because I am so busy DOING them that I forget to share them. So I decided tonight to post things I have finished some time ago.
The first one that came to mind was a box I made for the grandson of a friend. He was interested in bugs, Egyptology, and tigers. So I found pictures in magazines to decoupage on the box using these motifs.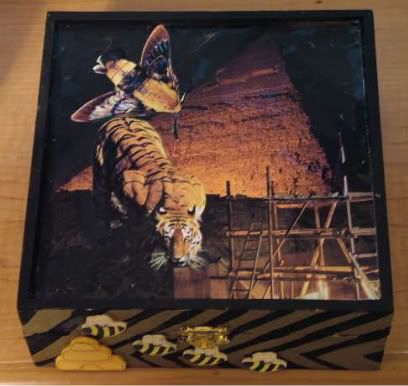 I found a picture of an archeological dig near a pyramid. Then I added a picture of a tiger that appeared to be looking down to my collection of pictures. I put the tiger on the box so that it looked as if he was peering down into the dig site. A giant moth hovered nearby.
That completed the top of the box. I wanted the sides to be all different. I painted stripes on the sides, that started out looking like the stripes on an Egyptian Pharoah's mantle,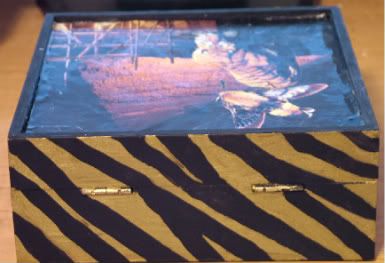 I found a page of stickers of ants at the craft store. The ants crawled up and down the stripes like the rooms in an anthill, and as the box was turned,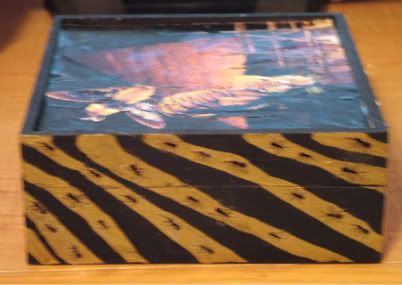 the stripes became more and more like the stripes on a tiger's fur.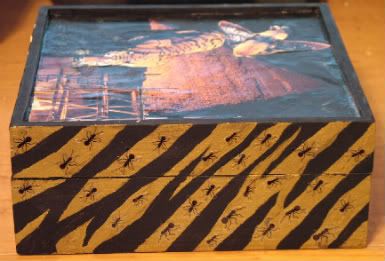 On the front, I put small cut outs of a bee hive and a few bees flying to it.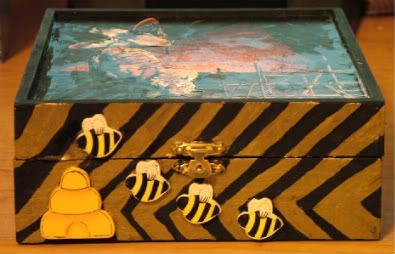 For the inside of the box, I found a picture of the bug collection of a famous ornithologist from the 19th century. That was glued in, with a plain black bottom of the interior of the box.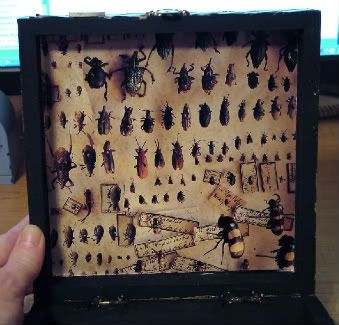 The bottom of the outside of the box was a large picture of a tiger that I found a lovely picture of a giant moth. It resembled a Commodore's hat from the English Navy of old. (My friend and her grandson were British so that was particularly nice for this box.)